I'm writing this at the end of a really long weekend, so apologies if there is any negativity it's just been a tough little week. Aside from the Ironman training I've got quite a lot of stuff going on in my life, sometimes this all kind of gangs up into a kind of commitment overload. I'm sure everyone else training for this kind of thing goes through similar phases (and good god, if you have children I cannot even comprehend how you fit it all in), but here is my life since Thursday:
Thursday, up at 6am for a meeting in London. Get home at 5:30pm, on the bike for an hour at 5:40pm. Finish on the bike, have some food, then drive to Preston for band practice.
Friday, work in the morning, then take the afternoon off to fit in all my non-work stuff. 1hr15 run followed by a couple of hours at the allotment. Drive to Preston for first gig with the band. Get back late.
Saturday, up early for 3hr bike ride, spend Saturday afternoon on first aid course.
Sunday, 1hr30 run, allotment, 2hr swim.
Combined with that, Pilla has been making two cakes over the weekend around the band stuff, my training and the course we went on and is now sat down to work for the evening. Ok, the training is tough, but fitting it in is the challenge, especially if you don't want to annoy your partner too much!
Having moaned enough now, here is the good news; I did fit it all in. Having said last week week how well my running was going, it obviously struggled along this week, to the point where I really didn't want to go out today. One of my wisest friends (@vivslack – general inspiration, motivation, useful advice and all round athletic superstar) mentioned last week that you can have runs where everything feels great and runs where everything feels awful, but both are worthwhile. One reminds you why you love running and one gives you the knowledge so you can get through the bad runs. Today was a bad run (note to self, eating curry the night before a run is really not a clever idea), but it got done.
It might be silly but when it gets hard, I do like to remind myself of where I've come from and the graph above shows a nice steady increase in miles since week 1.
This week I also had my first real bout of anxiousness about the training still to come. I had to re-jig the plan I'm following to take into account the half ironman I'm doing in week 25 and whilst I was there my eyes focused in on the dreaded week 27, the peak week of my training. To say some of the times are a little daunting is an understatement. I know i'll do it when I get there, but imagining a 6 hour bike ride followed by a 1 hour run (yikes) on the Saturday then a 3 hour run on the Sunday (yikes) is tough.
Here is a picture of Jodrell Bank from my ride on Saturday, just because it's awesome: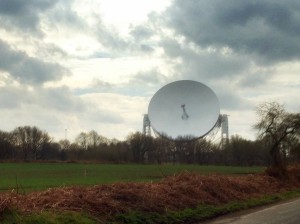 I did have a good swimming session tonight on the back of last weeks lesson and filming. I really do feel like I've made some progress already. I feel pretty good after the swim tonight which doesn't often happen! Still need more time in the water, but handily enough Salford Quays opens for open water swimming at the weekend (although it's bloody freezing still at around 6C, so I'm not sure how much swimming I'll be doing just yet). I'm really lucky with the swimming options available to me, I have the Manchester Aquatics Centre 5 minutes away from where I live with two 50m pools and two different options for open water practice about 1 minute away from where I work. No excuse to not be great at it by the time Outlaw comes around.
In other news the amazing debut of my band Outhouse 57 at Penwortham Live went really well! It's been a little like training for an Ironman being in that band:
It seems like a really fun idea to start with, when you're not taking it seriously
You very quickly take it seriously
Training/practice take up a lot of your time
You have to buy a lot more kit/equipment than you ever thought possible
When it goes badly it goes really badly!
When it goes well you feel epic!
After a shocking rehearsal on Thursday, we actually did ok on Friday night. We played ok, got through some mid-set technical difficulty and we got some really nice cheering and compliments after. Just a shame I had to rush off to bed for my cycle on Saturday. Not the life of a rockstar!
This is my training this week. As usual, the other details are here.
[table]Day,Type,Time,Details
Monday,Rest,,
Tuesday,Swim,0:45:00,#9
Tuesday,Running,1:00:00,"Z2 (at 0:10, insert 5 x 1 min PU @ 1min Jog)"
Wednesday,Cycling,0:45:00,Z2 (QC)
Wednesday,Running,0:30:00,Z2
Thursday,Cycling,1:15:00,"Z2 (at 0:10, insert 6 x 5 min Z4 @ 3 min Spin)"
Friday,Running,1:15:00,"Z2 (at 1:00, insert 10 min Z4)"
Saturday,Cycling,3:10:00,Z2 (QC)
Saturday,Running,0:30:00,Z2
Sunday,Running,1:30:00,Z1 to Z2
Sunday,Swim,2:00:00,Masters[/table]