In my head I had built this week up to be huge. When I looked ahead at the plan this week and its sister in crime, week 27, looked bad. Right off the back of a half Ironman the two biggest weeks of training. The weekends in particular looked brutal, 6 hours or so on the bike and 3 hours of so running. This just couldn't go well.
All week I've been playing a little mental game – if I could get through these two tough weeks I would be able to do an Ironman. I would have pretty much done the training – all the times reduce after these two weeks, the only question is, could I actually do them?
I'd adjusted my original plan to take out the intensive section from Tuesdays run and Thursdays ride to help recover from the half Ironman at the weekend. I got through Tuesdays run ok, I had some pretty tired little legs but I'm pretty used to that feeling now. I'd hoped to get in the Quays for a swim on Tuesday night but they had a wake boarding event on unfortunately. Don't they know I'm on a schedule here?!
I made up for the missed swim by making a deal with myself to swim for a long way on the Wednesday at the uswim session (which, as I've mentioned before is great. They have a lovely atmosphere down there and everyone is really friendly). I decided to shoot for 3kms of continuous swimming which is more than I've ever done before. On the night I felt so comfortable that I actually swam an extra lap and got to 3.5km in about 1hr20. I'm very pleased with this, I didn't feel too tired afterwards so it was a good mental session. I actually really enjoyed the swim last weekend and I know for most people the swim is the big hurdle to get over in a triathlon. I'm not a great swimmer or anything but I love being in the water especially the open water stuff.
I was plodding through my Friday morning run (which is the longest run I'll do midweek, of about 11miles) when I saw someone walking down the street dressed in red and blue. As I got a bit closer I started to think it looked a little bit like Spider-Man walking down the street. It was only when I got really close that he turned around and I saw he was wearing the full outfit – mask included! This cheered me up no end!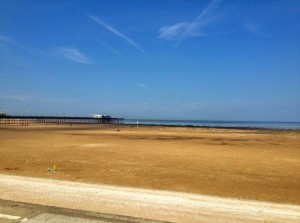 I'd planned my first 100 mile bike ride on Saturday which was a little over what was in the plan, but I thought it would be a good mental hurdle to clear, the 100 mile barrier. My route started in Manchester and headed north to Penwortham (where I grew up), across to the seaside at Southport then back to Manchester via Wigan. I loved most of the route (including a sneaky ice cream by the seaside) but my gps watch gave up on me with about 40 miles to go. This was a little annoying as I had to keep stopping to check the map but it did give me a few cheeky rest stops.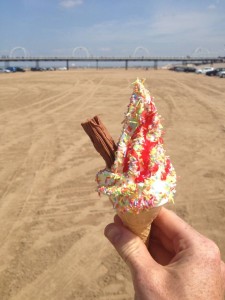 I finished the week with a 2:45 run today. To be honest is was the session I'd been dreading. To run that long (about 19.2 miles) with tired legs in the sun sounded grim. I'm always a little bit pessimistic about how hard sessions are going to be and I'd built this up to be the worst. I'd also convinced myself if I could do this weekend then I'd surely be able to do next weekend too. So I was a little nervous when I left…. It was fine! It was hot but I got round relatively comfortably! Happy happy days!
I've done a bit of 'cross training' this afternoon at the allotment with some digging and weeding and I'm still feeling ok, just very very tired. So I sit here, having completed 26 weeks of official training, with 4 weeks of training before that just to get used to it and I now know I just have one tough week to go before my taper starts. I might just do this thing!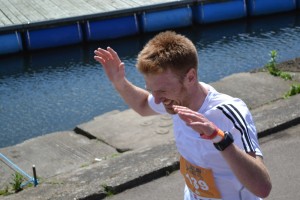 Nic sent across some pictures from last weeks half ironman, and I love them very much. I also went crazy and bought some of the official race ones too. This training is making me all sentimental, I might never walk this path again!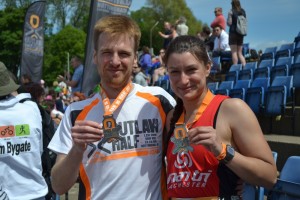 This is what training I did this week:
[table]Day,Type,Time,Details
Monday,Rest,,
Tuesday,Running,1:00:00,Z2
Wednesday,Cycling,1:00:00,Z2 (QC)
Wednesday,Running,0:30:00,Z2
Wednesday,Swim,1:30:00,#17
Thursday,Cycling,1:30:00,Z2
Friday,Running,1:30:00,"Z2 (at 1:10, insert 12 min Z4)"
Saturday,Cycling,6:30:00,"Z2 (at 5:10, insert 12 min Z4) (QC)"
Sunday,Running,2:45:00,Z1 to Z2[/table]