Week 27. The big daddy, the horror week. The week that I looked ahead to in my plan and thought 'Uh oh'. Week 27 was the biggest week of my training plan with around 17+ hours of training involved.
How was it? Well, it was ok.
And ok is exactly what I wanted! After the rest day on Monday I did a pretty heavy legged run into work, followed by a swim after work. I don't know if it was because I was tired or because I much prefer the Wednesday swim session but I was pretty useless in the water. I very much slowly pootled around the dock, breaking out into breast stroke (which I never do) and generally having a slow time of it. Fast forward to Wednesday after work and it couldn't have been more different, I set myself a target of a 3km continuous swim and was enjoying it so much I pushed on to 3.75km. This is pretty much the full Ironman distance swim and to get it done in one go makes me feel pretty confident. I actually really enjoyed it too, once you get into that long distance swim rhythm I actually find it quite relaxing!
I had a very tough turbo session on Thursday, which included a planned 30minutes at Z4 (z4 is the intensive 'owwwwww make it stop' zone). Because I had the half ironman 2 weeks ago, I cut the Z4 out last week, so I was really a week behind. Once I got to 20 minutes I was done. It hurt.
I have to say at this point it hasn't all been fun. The work days have been pretty hard – I have been really sleepy and concentrating hard on afternoon conference calls has not been easy. I've not seen Philippa anywhere near enough (getting up at 6, getting home at 8). My hunger pangs have also gone through the roof this week too. It might be that I've lost the ability to tell if I'm hungry, thirsty or tired but it's been a challenge to say the least. I also managed to fall asleep in record time on the sofa one evening after asking Pilla when dinner would be ready. The answer was 7 minutes, and I fell asleep approximately .28 seconds after hearing that.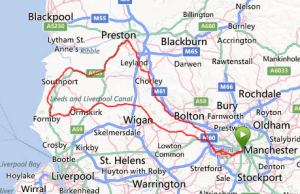 So bring on the weekend. I rode the same route as last weekend, but with one addition – the wind. I'm not a fan of riding into the wind (who is?) but as I cannot choose the weather on the day I figured it counted as mental toughness training. The ride itself was fine although my legs were pretty done in from the start. The 30miles from Preston to Southport directly into the wind was pretty hard and right at the coast I was struggling to keep above 10mph. It took me about 6.5hrs which is not quick and I'll definitely be hoping for faster on the day.
And that left just one session left to complete the week. The long run. A little 3hr jog to do so I could put my feet up and start my taper (I'm sure I'll talk more about this as it actually isn't that fun!)…
And I did it this morning.
Weirdly my legs didn't feel too bad all things considered and I kept up a pretty decent pace. I did struggle a little in the last 15 minutes where I kept flipping between counting down the seconds and reminding myself how furious I'd be with myself if I didn't get it done. I was expecting to get a little emotional at the end of this run but that didn't happen, I just had a quiet sit on the wall outside my flat and thought 'Wow, I can't believe you've actually done that'.
I did 21.5 miles which is the furthest I've ever run in training on the back of the longest week. A total of 17.5hrs. Let the tapering begin.
My total minutes by week graph is:
The details of what I did are:
[table]Day,Type,Time,Details
Monday,Rest,,
Tuesday,Swim,1:00:00,#13
Tuesday,Running,1:00:00,"Z2 (at 0:10, insert 5 x 6 Z4 @ 2 min jog)"
Wednesday,Cycling,1:00:00,Z2 (QC)
Wednesday,Running,0:30:00,Z2
Wednesday,Swim,1:30:00,#14
Thursday,Cycling,1:30:00,"Z2 (at 0:50, insert 30 min Z4)"
Friday,Running,1:30:00,"Z2 (at 1:10, insert 12 min Z4)"
Saturday,Cycling,6:30:00,Z2 (at 5:40 insert 15 min Z4) (QC)
Sunday,Running,3:00:00,Z1 to Z2
,Total,17:30:00,[/table]