So I talked about it a little in this post but until about two days ago I wasn't really looking forward to the Milton Keynes Marathon. I was unprepared, I hadn't taken it very seriously and if I hadn't paid for the hotel in advance I probably would have called it off. I don't know if it was the blog (it helped), the race mode you go into when you have an event coming up or the excellent support I got off Twitter but by Saturday I was looking forward to it and by Sunday night I was pretty excited.
And so it turned out that today was just about the most I've enjoyed an event since the outlaw half which was just about as prefect a race for me as you get. As I sit here stuffing my face with ice-cream after drinking beer I have a big smile and am currently on a massive race day high.  Why?
It was just a lovely day. We stayed in a nice hotel at the start/finish which made race morning pretty much zero effort and no stress. Then we met up with the best people on twitter before the race. We tried at Silverstone and failed, but I think today was the the perfect day for it (well it wasn't freezing for a start, and the atmosphere was lovely) and it all worked really well. Hugs a plenty, lots of smiles and a nice reminder that twitter is amazing for meeting like minded people.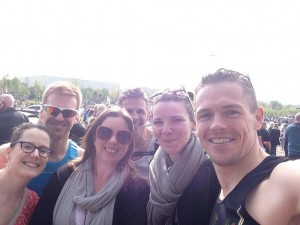 The hour before the race went super quickly and before I could say 'I've not run properly for weeks' we were lining up at the start line. I haven't run an actual race with headphones for years and it was kind of fun and kind of odd at the same time to do it today, but the Smiths coming on just before the start was ace. I'll take your carnival race start atmosphere and raise it with a bit of Morrissey moaning. Perfect!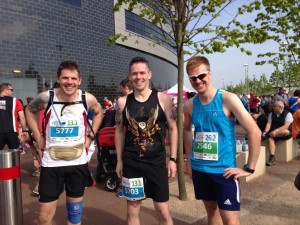 The first few miles you run into MK central and its basically running on a dual carriageway. I'm ok with this, it's never going to set the soul into overdrive but it's nice enough running along tree lined roads. There were a few up and down loops on side roads which were fine, but it seemed like every road had a good downhill slope then up hill slope. Nothing major but I should have taken note because later in the race those things would look like nothing!
Anyway I was pootling along at just under 8 minute miles, and although my legs felt a little tight, it was much better than on the last few runs and I figured I'd just go with the flow until it started hurting. The worlds best support crew popped up with some serious volume at about 1.5 miles then at about 7 miles on the run back from MK. I probably should have some sort of mental strategy for marathons by now, but I basically just run until it hurts. Today I was thinking that if I was still running at 20 I would be in good shape for a PB.
Somewhere at about mile 12 I caught up with the 3:30 pace group, this was fun as I've never really run with one and for a while I was really thinking I could keep with them till the end. I was feeling pretty good at this point even if the endless ups and downs of underpasses were a bit grinding me down. It was pretty much exactly what I was looking for in a race: small field, pretty friendly local support and a nice day. It was just a run and I was definitely enjoying it.
The bit around a lake (Willan Lake) was pretty sweet as there was quite a bit of support and as I got through 16, 17, 18 miles I genuinely thought under 3:30 was possible. I shouldn't have counted on this though because very quickly at about mile 20 I started struggling. I really wanted to stop and walk but every time I tried my flipping legs just kept moving. I kept moving to one side of the path and slowing right down but for a good 2 miles or so my legs just refused to stop moving. Weird? Yes. Responsible for my time today? Almost certainly.
There's some really nice bits round here, along off road bits, along the canal, I just thought it was a really pleasant route. Anyway…
So I tried for as long as I could but somewhere at about mile 22, when rounding a corner and seeing a steep uphill after an underpass I had to. At about this time we got to a downhill section and just as I did the flipping london marathon theme came on. I forgot I bought this and put it on my running playlist but it brought a huge grin to my face. Downhill section? Check. Running a marathon? Check. 22 miles in and still enjoying it? Abso-flipping-lutley-check.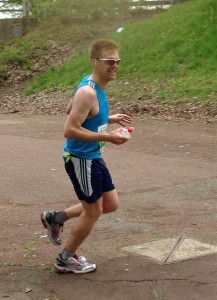 On one of the many (many) downhill, into underpass, up again, I spotted (heard) Pilla, Lozza and Rae and as they spotted me at a good time I was running well and it gave me a massive boost. I knew 3:30 had gone at this point but I was not going to let 3:40 leave me again….
… well that lasted for about another half mile or so before more run-walking. I was only walking in really short sections, pretty much just the uphill bits but it did mean my time was clicking away. The last mile after 25 was a pretty desperate 'arrrgh I need to speed the f*@!-up!!!'. The finish at MK is a pretty cool stadium finish. You go down the tunnel, loop around the pitch and cross the finish line with quite a decent crowd. I loved this bit too, and definitely enjoyed crossing the line!
After the race we all met up and went for chips and bad food and sat in the sun cheering the rest of the runners whilst eating it. It's not often I'll say that one of my best meals is from the golden arches but those chips were some of the best tasting things I've ever tasted.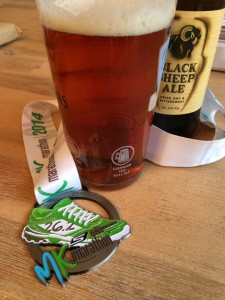 Well until I got home and had that beer.
So in summary. Met lovely people. Had some amazing support. Did a nice run. Got a pretty medal. All good. And to Pilla, Loz, Rae thank you. You were ace. Would I do the Milton Keynes Marathon again? Well, I think it might have been my favourite marathon to date..