What a weekend. I'm just going to write out Thunder Run as I think about it now with sore legs, a happy heart and a insatiable appetite. If it doesn't make sense as a blog it's because I write these really to remember the event so I can look back when I forget that I ever did this and remember how it feels.
Course
The lap is a 10km loop, which worked a bit like this:
The first bit: flat, from the camp, about 0.5km to the first hill
The steep bit: very steep hilly woody bit, lots of switch backs and narrow paths, up to about 1.5km
The nice bit into the camp: downhill, then the flat bit around the camp to about 3km
The hilly, rubbish bit: a slope, then a woody section which included a hill to about 4km
The quite pleasant bit: an open bit, with a steep hill just before the 5km point, then a nice downhill bit to the drinks station, then an uphill bit where the hill challenge was.
The first wooded bit: through the woods, then an uphill bit at 6km, then past the @teamB_O_B sign
The second wooded bit: lots of switchbacks, soft ground, smelt like Christmas. Past the 7km sign.
The ridge bit: quite open, nice views, quite exposed. Run out along it, then down, then back across the bottom and a quite awkward camber.
The 'lake' bit: around the lake to the campsite
The bit next to all the tents: where everyone clapped and said nice things on every lap
The last hill: short stony hill before the finish. Loads of people on the corner then up the hill.
The last bit: around the back of the start finish line, then across the line to start another lap.
Training
How do you train for a 24hr race? In my case not well! Due to various reasons including busy weekends, being a bit lazy and generally messing around I had scrapped all of my long runs. This meant I was fitting in what I could by run commuting. It's about 7.5 miles to work, and about half the time I'd run home too, which I was probably doing twice a week for four or five weeks. It meant I hadn't done any runs longer than 7.5 miles since April. I suppose this didn't make ideal training and I did go into the weekend wishing I'd done a lot more. Also all of my runs were pretty much flat, apart from going over the odd canal bridge. I was obviously pretty fit going into it just not very well 'event trained'.
Preparation
I had a very vague idea for how to handle the race, splitting it down just into 10kms at a time. Stopping after each one and aiming to get round, eat, drink, and rest and be out again within 90 minutes. In theory if you kept that up for 24 hrs you'd get to about 160km and pretty close to the 100 mile mark. What I don't think I realised was how tricky the course was. I was guessing I'd be doing 10kms in about an hour. I'd tested a 5 minute run, 1 minute walk strategy in training and that was still seeing me do 10km in about an hour so I figured I'd be banking quite a bit of time in the early stages to use up later on if I needed to sleep.
My only goal really was the 100km mark for no other reason than it just sounded quite a long way!
Getting there
We arrived on the Saturday morning at about 9:30 or so, handily we'd given @TheLozzatron our tent the weekend before to put up when she arrived the day before. Now it's fair to say that Loz is not a born camper, but I doubt there is anyone that loves a 24 hour race as much as her and if you want a good spot for the weekend there is no better person to give your tent to. Yes, we might have been worried about what state the tent would be in when we got there, but we knew it'd be in a great spot. And boy was it! About 200m on from the start/finish line, right on the edge of the course. Perfect.
Loz and Sarah arrived on the Friday and had to put up the tent with the rain for company. We arrived on the Saturday morning in perfect weather to a tent already put up. Thanks/sorry.
This event was described to me (by Loz I think) as being like the Glastonbury of 24hr runs and that was exactly what it felt like as we wandered around the site and  went to get registered and pick up my number. Events like this always have a really nice feel to me – everyone there has at least the event in common and that you are a runner. This gives endless opportunities for chatting and quite frankly a lovely community feel. I loved it.
Car unpacked and tent set up I set about the important business of pre race fuelling. In this case High 5 zero drink, a pork pie and a chocolate cookie. Like all the athletes do.
Lap 1: First lap
12:00 – 13:12,  0 – 10km
One of my favourite moments happened right before the start when everyone was lined up. The announcer asked everyone to wave who was a first timer, then the same again for the solo runners, at this and without any prompting, the other runners started clapping. A really lovely touch that, and frankly the first of many throughout the weekend.
Both Sarah and Chris had mentioned the bottle neck through the first lap as people have to go pretty much single file through the first steep bit and true enough this happened. It actually works out quite nicely to slow you down on the first lap. I was a bit unsure about what shoes to wear to start the race, it pretty much came down to two choices:
Very comfy road running shoes, totally unsuited to mud or slopes (or muddy slopes)
Trail shoes, which are a bit less comfy and have blistered my feet before on 10km runs
Looking around at the start pretty much everyone else had gone for trails, I was standing there in my white road shoes and when we got the the first muddy bit totally regretted it. It was both slidey and wetty (a term I invented at about 100km when I couldn't think or speak very well) and lots of the paths had cambers on making for some really interesting 'bambi on ice' moments for me and other runners too. I love running new routes in races it really helps not knowing what's coming up, although in this case going round the course my main thought was 'woah, there are a lot of hilly bits'.
Lap time: 01:12:24

Break time: 00:10:07
Lap 2: The lap with TeamB_O_B
13:22 to 14:30, 10 – 20km
I bumped into Martin off of Twitter during lap two and it was it a flipping pleasure to run with him for a couple of km. I don't think I've ever met a more infectiously enthusiastic person to run with, good words to every runner, every volunteer and every marshal we passed. Lovely guy. He also gave some solid advice about listening to your body and not your head which is totally right. Around the course the TR people had created a load of signs with quotes from some of the runners, things like 'The difference between trying and triumph is a little bit of umph'. I spotted Martin had a sign on the first lap so we stopped at about 6.5km to take his picture in front of it.
It was on this lap I started noticing a slight burning in my feet, almost cramp like that I assume was caused by the bumpy ground on my used-to-flat-canal-path feet. Oddly enough I then got it in the same place on most laps but it only lasted for a km or so.
Lap time: 01:08:07

Break time: 00:13:12
Lap 3: the lap with Chris
14:43 to 15:54, 20 – 30km
I set off on lap three with Chris for a bit of company. We were going at pretty similar paces and walking in similar places so we had a good chat for the first few km. After that we kind of leap frogged each other during walk and run breaks but it definitely passed the time. Chris did the event in 2014 and also had some pretty solid advice about not burning out too early. I was figuring the speed I was going was perfect non-burn out pace. The only thing bothering me was the weather – it was a little breezy but surprisingly warm. I was drinking tons at this point during the breaks and a couple of waters on the route (the water station volunteers were ace and had kind words for everyone).
It was during this lap that I started to feel a bit self conscious about just how slow I was going. It's not like I'm the world's fastest runner, but I'm normally top third I would guess* but in this race people were absolutely bombing past me. As a solo that's totally to be expected but it would have been nice to have something on my back that said I was a solo, so I made a plan to ask Pilla to figure something out when I finished the lap.
*which as we all know is the totally made up figure for what makes a good race result
Lap time: 01:10:14

Break time: 00:32:59

Lap 4: the solo sign
16:27 to 17:38 30 – 40km
I changed clothes during the break and had a brew. The first of many MANY delicious cups of tea. I packed a million running tshirts to change into and my favourite for hot weather happens to have my name on the front (I did it for the Manchester Marathon but ended up not wearing it). Pilla also made a sign from half of the envelope the race number came in which I then pinned to the back of my race belt. All set.
What a difference. In the first 10 seconds of the next lap the camp opposite shouted 'GO ON NEIL!' and pretty much 50% of the runners going past said some kind words on the way. It made a huge difference; if I ever do one of these again I'll have one on from the start. Not only do you get all the support but you don't feel as bad on the bits where you walk, cos, Solo.
Lap time: 01:11:33

Break time: 00:23:18

Lap 5: The one where I can't remember anything
18:01 to 19:15, 40 – 50km
I know I did this lap. I've definitely got evidence it happened! It's just I cannot remember anything at all from it. I did post this onto Facebook at the end of it:
https://www.facebook.com/neil.a.wilkinson/posts/10153626389074750
Obviously things were pretty tasty. I might have been talking about the food. Standard.
Lap time: 01:13:39

Break time: 00:17:01

Lap 6: Lap with Pilla
19:32 to 20:59, 50 – 60km
I was trying to save my laps with people for when I thought I'd need them and I figured the first full lap after I'd gone past marathon distance would be a good time. I had a lovely lap pootling round chatting to Pilla about the course, saying thank you to everyone that wished me good luck or called me crazy, generally being very appreciative of the solo sign on my back and having a good old time of it. By now I had a pretty good routine of where I would run and where I would walk although this was the first lap where the walking amounts increased noticeably. The parts that were flat and runnable now seemed to have slight slopes which made it much more difficult.
Lap time: 01:27:15

Break time: 00:26:04

Lap 7: The first head torch lap
21:25 to 22:58, 60 – 70km
Sarah had offered to run this lap with me, but I had been picturing listening to some music and entering some sort of transcendent state as it got dark. Me, music and head torch. It sounded pretty cool so I did the lap on my own. I actually regretted this decision fairly soon. There were some lovely spots with music, but being really slow and not hearing the runners who were coming up from behind so much made it a little disorientating. It would have been lovely having some company and the lesson to learn here is never turn down an offer of a lap with a friend during a 24hr race.
The thought getting me through most of lap 7 was what I was going to eat at the end of it. Actually I was thinking about food quite a lot during the whole thing! I was getting pretty fixated on what I would eat on the way home. It definitely had to involve KFC but I was also picturing a milkshake from McDonalds. Maybe with a portion of fries if I was in there already. If there is any day you can visit both of these for lunch then it's the afternoon of a 24hr race (in the end we just went to KFC but ordered ALL of the food). This was also the first night lap which I'd been looking forward to. I think that night laps might be the thing that mark 24hr races as special, everyone dons the head torches and there are some pretty moments when you are going through the woods where all you can see is the lights on others runners as they weave through the branches. What was different here from the Equinox 24hr race was just the sheer darkness of the wooded sections, there was absolutely zero light in there. There was also the small matter of the hundreds of roots, stumps and rocks lying about. These were totally not a problem in the daylight when your legs were fresh but at night with tired legs? Ouch. This was also the time I realised that whilst our new head torches are pretty good at throwing a focused beam of light out, they didn't give much outside of that narrow circle of light. So you saw a root 2 metres ahead, but then it disappeared before helpfully reappearing just under your foot. This made for a fairly difficult lap where I stumbled over a lot of things and generally got a bit down about it. This again made me regret not having some company. The low point was the last slope down before the little lake/puddle/bog where I managed to twist my ankle in a hole (when it got lighter I looked for the hole, and it was WAY off the path, god knows why I'd stumbled so far over). There was a lot of swearing here. As I plodded around the last few kms though all I could think about was the food waiting for me back at the tent….

Lap time: 01:32:46

Break time: 00:44:50

Food
I love food. I love chilli. I was cold. I was incredibly hungry. I had chilli and a baked potato and it was probably the best thing I've ever eaten.
Lap 8: Walking lap with Pilla
23:43 – 01:46, 70 to 80km
After eating it seemed like it made sense to walk a lap to avoid indigestion. As we'd be walking and it was dark I thought I'd change into my running tights (with shorts over, I'm not that weird). In the previous lap I'd started getting some weird cramping feelings in my arms (which were doing nothing all day except eating, ah that might explain it) and I thought holding them differently would help so I set out with the walking poles and it did help quite a lot. I really enjoyed this lap, it isn't everyday you are 14 hours into a 24 hr race plodding around in the dark chatting to your best friend.
If I loved the lap it was also notable for one thing I didn't love quite as much. Lap 8 was when The Chafing began. Caused just by long distances I guess, Lap 8 brought about a heat in the 'sensitive places' that could cook food (not many chefs would recommend that method though!). Lots of runners after these events post pictures of their mangled feet – the only thing mangled of mine so far would not make an appropriate picture. Once it started it didn't let up for the rest of the event. If you saw me smiling after this point, it's highly likely it was actually a friction based grimace.
Once we got back to the tent Pilla was planning on getting to bed but not before she gave me a severe talking to about my plans for the rest of the night. Along the lines of 'you are going to make it to 100km – just don't do anything stupid'. I listened to her advice.
Lap time: 02:02:44
Break time: 00:39:36

Lap 9: 3rd night lap
02:25 – 04:17, 80 to 90km
After Pilla gave me the talking to I set off on another lap. Frankly, at this point having listened to Pilla's very sensible advice I was still planning on ignoring it and just carrying on. During the break I got pretty cosy in the coat/shmangle set up and very quickly after setting off walking I was bloody freezing, proper teeth chattering, whole body shaking cold. Given the layers I was wearing I figured if I could just run then I'd warm up really quickly and so I started out on a shuffle and surprised at how ok it felt ('ok' is relative here), I just carried on.
I'd picked up our little LED torch which made a HUGE difference to how much I could see. The first 5km or so of this lap was flipping great and then I just couldn't run any more. This is when The Fart happened. As I trogged around the last half of the lap I was getting a bit of stomach gip. You are running and eating and running and eating and that is not a good recipe for a happy stomach.  The problem with Thunder Run I guess is that the course is consistently pretty busy and so if you have to let rip people are going to hear. After walking with a very gurgly stomach for a couple of km's, waiting for a quiet patch and being in a miserable frame of mind I thought 'ah fuck it'. Sadly the point at which I did this was the bit in the woods. With all the switch backs. Which is pretty much the point on the course where you are closest to the most people. What I released in the woods that night was not a silent little thing, but instead came to the outside world kicking and screaming with all the force of a jet engine taking off. It was probably the loudest and longest noise I have ever heard. I think earthquake detectors might have been triggered. In China. 14 hours of running and eating compressed into one 10 second monster. If I'd been running at this point it probably could have taken a good few seconds off my PB.
Suddenly, the gentle night time chat I had been hearing from other runners all around me was instantly silenced. After a few awkward seconds that felt like hours I heard voices in the dark behind me say "Oh god, it's like a napalm attack…."
And they still legitimately wished me good luck when they went past me. If you were those runners, I'm sorry. From the bottom of my heart, to the bottom of my stomach via my actual bottom, I'm sorry.
When I got back the sun was about the rise and the sky was getting really light. I really wanted to be out on the course for the this, but as I went into the tent to try and get some food, I managed to wreck the zip on the tent. First it got stuck in the fabric, then while undoing that I managed to pull the zipper off one side. This rendered the whole door bloody useless and I spent what felt like an hour (probably only 10 minutes) trying to fix this with the only tool I had available, a coat hanger. Predictably, I failed. At this point, annoyed with myself and tired, I did what I normally do in these situations and sat down and felt sorry for myself. I couldn't be bothered eating and so I just sat thinking what to do.
After having some semi delirious chat with Loz and Sarah about who was big spoon and who was little spoon in their shared tent (for the record, I think Sarah would be big spoon), where Loz kindly informed me she though it might be best if I go to sleep, I decided to go running again.
When I got into the tent to get some food I then thought that actually bed would be the best thing. I climbed into the sleeping bag still in my full running kit,shaking with cold when Pilla put an arm round me and the warmth radiating off her was enough to instantly sending me to sleep. I will never forget that feeling of tiredness, effort and grumpiness being switched off in the blink of an eye.
Lap time: 01:51:56

Break time: 03:05:36

https://www.facebook.com/neil.a.wilkinson/posts/10153627276064750
7:23 – 08:53, 90 to 100km
The alarm went off at 6:30 and I had to peel myself out of the warm sleeping bag and go get prepped for running. This being the glamourous sport that it is, this involved a very stiff legged, sore and awkward walk  with every step feeling like parts of me were being blow torched and applying a years worth of Vaseline to the sore areas in a pretty grim portaloo. This made absolutely no difference whatsoever and every step back from the portaloo still felt like I was being scrubbed with wire wool.
After probably the best breakfast I've ever eaten and a little procrastination I set off on lap 10. I wanted to do this one with Pilla as it would mean hitting my goal and that seemed right to share. It was pretty uncomfortable to get going but once I was moving it was absolutely fine. This might have been my favourite lap so far. The difference between this lap and the previous nights lap were incredible (literally the difference was like night and day) and I had a flipping great time getting round with Pilla. We high fived at the finish. Job done!
Lap time: 01:30:04
Break time: 00:22:10
Lap 11: Rae's lap
09:15 – 10:53, 100 to 110km
Still feeling pretty decent all things considered, I set off for lap 11. I wanted to get back for 11ish to make sure I had plenty of time to get round a final victory lap during which I would presumably smile all my way around. Easy.
After I got to the first hill as I was looking through the trees back at the other runners down below for some reason and I happened to see Rae speeding along. I shouted 'RAAAAEEEEEEE' whilst everyone around me looked on in surprise and I heard back 'ARE YOU IN THE TREES?!' Yeeaaahhhh, this meant I'd have some company for at least some of the lap and this would make it So Much Better. Rae caught up after a few switchbacks and we chatted and ran and walked and chatted for the whole lap. I. Loved. It. Rae was on her fifth lap (after being knocked over by some divs in the night) which was going to get her to 30 miles. As her one time marathon training plan creator this actually made me feel very proud of her especially as she was still running like it was her first lap. This got me round in plenty of time to get the last lap in and time actually flew on the way round. During the lap she spoke to H on the phone who would be starting a lap pretty close to when I'd be starting my last. Woo! Maybe some more company…
Lap time: 01:38:08
Break time: 00:11:47
Lap 12:  H's lap
11:05 – 12:46, 110 to 120km
H came running past our camp with the rest of her team and offered to run with me on the last lap. At first I just thought it would be for a little while and I felt really guilty as her team ran off but she was VERY insistent about staying with me which I will forever be grateful for. As soon as I got running I knew it would be a painful lap as I could barely bend my knees. It had also just started properly raining and I told H she had to make sure I didn't just walk the whole lap. I didn't want to be the last on the course and I didn't want to be out for hours. We plodded down to the first hill and it was painful but fine. We chatted (rather, H chatted and I listened which is an arrangement I'm very comfortable with living with Pilla) and it was lovely. It started getting really wet at around the 2km mark and I was walking more and more. H was gently encouraging me to run as much as I could which was perfect, but by the time we got to 5km I was totally done in. I felt sick, my eyes were going weird, my legs felt shocking, the soles of my feet were burning and the chafing was reaching new of levels of friction if that was possible. At this point the course loops very close to the end and if H wasn't there I would have given up. The fact that I didn't was all down to her. We pretty much had to walk the last 5km, in the pouring rain with me being miserable and H trying to distract me. It must have been terrible for H and I'm truly sorry but incredibly grateful for the company.
Once we got to the ridge at 8km for the last time the finish felt pretty close and I was pretty excited to be getting back into camp. Despite the weather there were still loads of people supporting and it seemed that everyone had some nice words for the solo runners. I tried to thank everyone who said anything to me but that got pretty hard on the last big corner and last hill. So many people and so much genuine support. It was pretty special (actually teamB_O_B said on lap 2 that it would be like this and I'd been looking forward to it for 22 hours). As we looped into the start/finish area we obviously had to run this bit and again there was tons of support. As I was getting close to the line I could hear a runner coming up really fast behind me and just as I crossed the line Sarah tapped me on the shoulder. Pilla and everyone else was waiting at the line, cue lots of hugs and cheering and it was flipping brilliant. The utter pain of the lap was gone, replaced with some lovely moments.
Lap time: 01:40:30
The aftermath
There were hugs.
There was pain.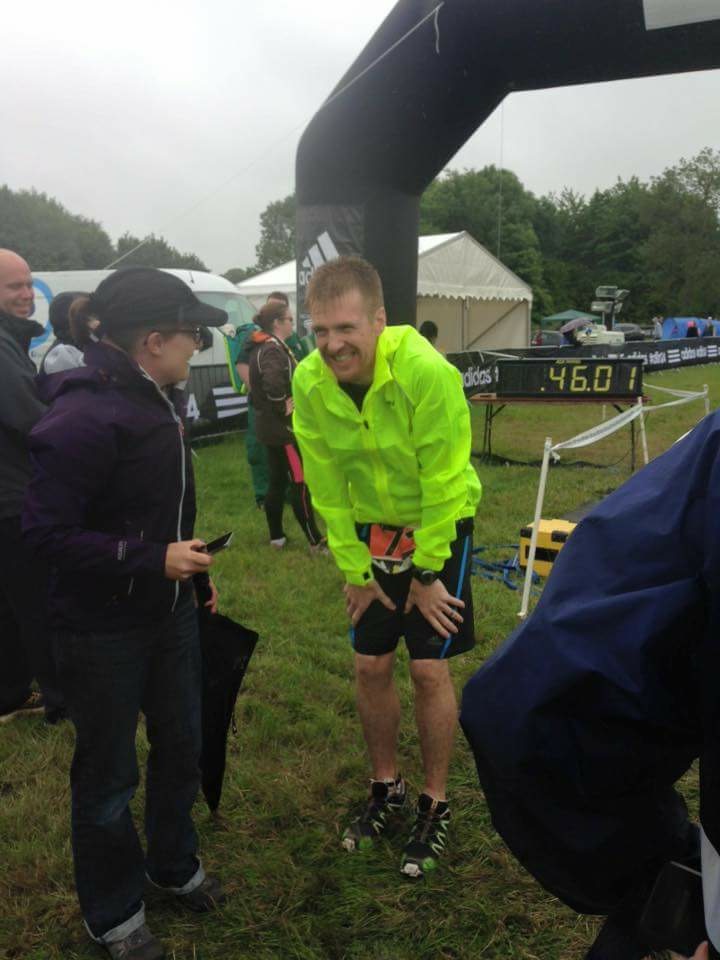 There were smiles.
There were Facebook updates.
https://www.facebook.com/neil.a.wilkinson/posts/10153627919944750
And then there was utter utter exhaustion. That lap was the closest I've come to giving up. It took just about everything out of me. Once I got the medal and back to the tent I could barely move. Rae brought me a cup of tea. It was incredible.
This photo is not just an unflattering moment. This captures exactly how I felt:
I think Pilla got a bit worried at this point and demanded I got warm and changed and she actually had to help me do that given I couldn't feel my hands or move my legs. That in a half taken down tent with a broken door deserves it's own medal (for Pilla).
120km, 74.5 miles. Thunder run, you were brutal. Loved it.

— Neil Wilkinson (@Neily_wilko) July 26, 2015
The journey home
I fell asleep. The site is about 5 minutes from the motorway but I don't even remember getting to the first turn off the first road from the site. I slept until a motorway service station with a KFC then I fell asleep again all the way home. This was obviously a nightmare for Pilla dealing with her own tiredness and shocking weather and once again reminded me how amazing she is. I totally couldn't do it without her and I'm not sure I'd want to. Thank you Pilla x
The things I don't want to forget
(in no particular order)
How amazing Pilla is at supporting me in these events. The food, the cheering, the pictures, the nice words, the stern words of advice, the lap when it was dark.
Sarah B arriving back from swimming as I was getting ready by taping up my nips and saying 'Ahhh the glamour of ultra running'.
Chatting to TeamB_O_B for half a lap or so. Actually listening to his advice. What a lovely guy. Taking his photo by his sign just before the second wooded bit.
The random guy that actually stopped me to shake my hand on the last km.
The millions of 'keep it up solo', 'go solo', 'great effort solo' comments that lasted for 24 hours.
The last two camps before the 3km sign – the ones who shouted out my name at EVERY lap. So looked forward to seeing those guys, and the bigger group of ladies who were equally enthusiastic (and quite possible a bit more drunk).
The big spoon conversation which at 4am with no sleep and a tired mind was to me the most hilarious thing ever, and to Loz and Sarah probably the stupidest chat ever.
The feeling when I was cold and broken in the tent before Pilla rolled over to warm me up and I fell asleep in about a second.
How amazing Pringles are when you are hungry and in need of salty things.
The chat with the really friendly pairs lady in the night who was telling me how amazing she thought the mental toughness of the solo runner was. Whilst I was dying a bit inside.
Sarah telling me every lap that the next lap I was about to be on was the one where it starts to get easier. And most of the time she was right.
How quickly your head goes from 'Things are great!' to 'Things are miserable' to 'Things are great!' often many times in a lap. Sometimes many times on a hill.
The support on Facebook during and Twitter after, where you are made to feel like a rock star.
Everyone at the finish, with Sarah & Simon running up behind me at the line.
The cup of tea Rae bought me.
Loz asking how long it would take for what I did to sink in and me thinking 'ff*******cccccking hell that is quite a long way'.
Running through the sunset and the dark and still going when it was getting light.
Having some of the best tasting cups of tea I've ever had
Legitimately eating anything, in any order, that I wanted. Pilla: "What do you fancy?", me: " I think I could go for a banana, Babybel, cookies and Pringles please. Maybe a pork pie?".
The funny songs playing at the start area on the first few laps. Sit Down by James, Road to Nowhere.
Seeing a guy at the services limping and asking 'Thunder Run?' Him nodding and smiling.
Thunder Run Lap Times
| Lap | Lap Start | Lap End | Lap Time | Break |
| --- | --- | --- | --- | --- |
| 1 | 12:00:00 | 13:12:24 | 01:12:24 | 00:10:07 |
| 2 | 13:22:31 | 14:30:38 | 01:08:07 | 00:13:12 |
| 3 | 14:43:50 | 15:54:04 | 01:10:14 | 00:32:59 |
| 4 | 16:27:03 | 17:38:36 | 01:11:33 | 00:23:18 |
| 5 | 18:01:54 | 19:15:33 | 01:13:39 | 00:17:01 |
| 6 | 19:32:34 | 20:59:49 | 01:27:15 | 00:26:04 |
| 7 | 21:25:53 | 22:58:39 | 01:32:46 | 00:44:50 |
| 8 | 23:43:29 | 01:46:13 | 02:02:44 | 00:39:36 |
| 9 | 02:25:49 | 04:17:45 | 01:51:56 | 03:05:36 |
| 10 | 07:23:21 | 08:53:25 | 01:30:04 | 00:22:10 |
| 11 | 09:15:35 | 10:53:43 | 01:38:08 | 00:11:47 |
| 12 | 11:05:30 | 12:46:00 | 01:40:30 | |
Garmin Details