Been a bit slack on the blog lately, I tried to write a few times but every time I loaded up the site I was just lacking inspiration. I guess there are only so many times you can say 'the training is going pretty well but I'm quite tired'! Today we went out to cheer a couple of friends in the Manchester Marathon, plus as many of the runners we could. I love doing this, having been on the receiving end of a lot of support in the last few years it's lovely to go out and make some noise for other people. It also properly got me in the mood for next weekend…
… which is good because this last week has been a bit of a weird one. Last Saturday I went on a work trip to Saudi Arabia for 6 days. As preparation for a marathon this is not ideal but I was trying to convince myself before hand it would be like a training camp. the good thing about Saudi is the zero alcohol rule so no temptations there and the hotel promised a pretty slick look gym to train in. Well, the work kind of took over and it was a pretty stressful trip leaving very little time for training, oh and it turns out the hotel didn't have a gym after all. In the part of Saudi I was, running outside in shorts wouldn't have been appropriate, so I had to make do with some hotel room circuit sessions. The amount of fitness you drop in 6 days isn't that great and I'm sure the rest did me good but those first few runs after coming back were horrid. The 8 mile long run I didn't yesterday was a proper shocker. Couldn't get in a rhythm, heart rate was way too high – felt like I'd not been running in years! I'm sure all of this is in my head, but my legs were heavy, my right achilles was hurting and it was generally a bit rubbish.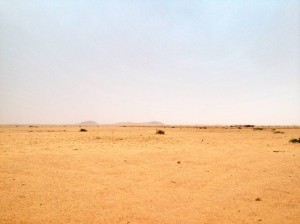 Everyone fears picking up a cold or bug at this stage in the training so I spent a lot of the trip thinking 'don't eat anything weird or do anything stupid' but I always forget my own rules and spent the entire week eating an absolute shed load of food (flat bread and humus is my drug) and at one stage drinking fresh camel milk, dates and arabic coffee in the desert.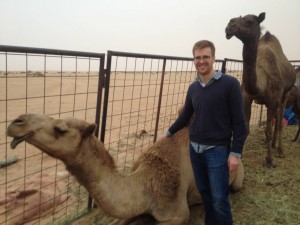 So I've done the training now I just have a week to get my head in the right place! Supporting today definitely helped with that. There's some pretty special about standing near the finish line of a marathon and I walked away thinking that in 7 days time it'd be me crossing that line and I cannot wait!
2 years ago I crossed the line being really disappointed in myself but this year it's different. I couldn't have done any more training. In this whole 20 weeks I've missed 10 running sessions. As I'm doing 6 runs a week, and half of those missed sessions came in this last week and were enforced I really couldn't have done any more. In a way I've already achieved what I wanted to, I've done the training, I've hit the numbers. Whatever happens next Sunday will happen. Good or bad, fast or slow I'm taking part in the best race in the world. I've been pretty focussed on getting some times, and you often hear people describe ABC goals. C being your minimum, B being a good performance and A being that perfect day where everything goes to plan and the wind is behind you the whole way (those races do happen by the way, my half ironman last year was just perfect for me!). Well, I'm going to go a bit crazy with it, may I present my list of goals. If I do any of these things, I'll be a happy bunny:
[table],Goal,Details
A,To finish, If I get to the line – I'll be happy. I'm healthy happy and fit enough to run a marathon.
B,4:39, My 2012 time
C,3:59:59, Standard sub 4 hour goal time
D,3:57:16,My current marathon PB
E,3:45,This was 2012s goal time
F,3:29:29, A PB of 27 minutes – I'd be ecstatic with this
G,3:22:59, Beating my Dad's 1990 time
H,3:19:19, I'd be amazed with this time
I,3:15, The time I've trained for
J,Under 3:15,You'd have to slap me pretty hard to make believe I'd hit this time!
K,,To enjoy it. To appreciate the crowd and the race and high five as many people as I can
L,,To love that medal
[/table]
So it's pretty much feet up time now. Couple more light runs, one bike ride. I'm ready.
I have a Virgin Money site here: http://uk.virginmoneygiving.com/NeilWilkinson. I'm raising money for the MS Society and I'll love you forever if you consider donating. Oh and extra finally, I added this thing on the blog that let's you sign up for email updates if I add a post. If you want to you can sign up below. Thanks for reading!
[subscribe2]