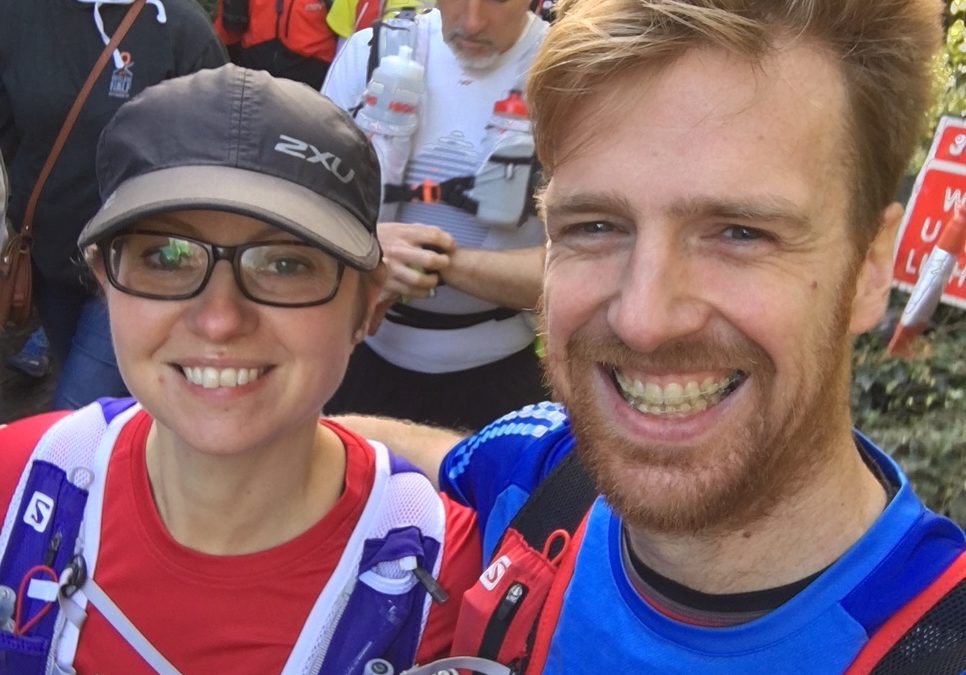 About two years ago I vividly remember Sarah Booker and Susie Chan taking part in a race I'd never heard of called the Autumn 100. It seemed incomprehensible to me at the time. How can you run for 100 miles in one go? More importantly why would anyone want to do that? It just seems totally impossible. As we tracked them over the weekend of their race I remember thinking how insane the whole thing was.
And then you start to think. Well, what would the training look like? I've done training before that's been pretty hard. It's still way too far but I've had a go at things like that before too. You know what, maybe I could do something like that. Before you know it you start spending time on the event website, so then you might as well give in and sign up, it's going to happen. I signed up for last year's race and got the qualifying distance at Thunder Run, but after falling out of love with running for a lot of last year I dropped out. I had no intention of signing up this year until we went for a meal with the Twitter people in December. On the way out, H said "so I'm thinking of doing the A100, do you want to do it too?" to which I replied "Absolutely not".
And then about 5 minutes later, I got in the car with Pilla and told her that I wanted to do it.
H and I had already planned to do a 24hr race together as a pair at Equinox in September so we figured we could just keep on training for this race four weeks later. I made my training up as I went along for both events; I planned to do a lot of double run days of running to and from work, which I built up to about 9 miles there and 7.5 back, a couple of times a week with a long run at the weekend. The idea was to just get used to running on tired legs. Right from the start I knew it wouldn't be possible for me to run the whole way so all of my training was a walk/run strategy and I usually settled on 5 minutes running, 1 minute walking. This training really worked for me and Equinox was amazing. We both felt great, we stayed really consistent and strong, I felt fantastic and we both did 68 miles in about twelve hours. However, in hindsight I think we might have pushed too hard because I felt absolutely shattered for two weeks after.
The build up to this event was like nothing I've felt before, it became almost all I could think about. It wasn't nerves exactly, more just this strange feeling of knowing what I was about to put myself through. You know it's coming, you know you want the t-shirt and the buckle at the end, but you also know that you are going to have to put yourself through an awful lot to get it. Before the event I never really thought about not being able to finish it, I absolutely, definitely, clearly knew that we would and that we'd do it together. As the race weekend rolled around, I picked up my traditional pre-race cold but this time also managed to pass it on to Pilla. The feeling of getting ready in a hotel room in Reading whilst Pilla could barely get out of bed was pretty dreadful; I often think it's pretty selfish doing these events but when it consumes a whole weekend and you know that your partner will be out on course worrying, updating people, seeing you looking dreadful, consoling you, cheering you, texting you to remind you that you are doing it, all whilst wanting to do nothing more than to be snuggled up at home in bed with a cat. It wasn't a great feeling.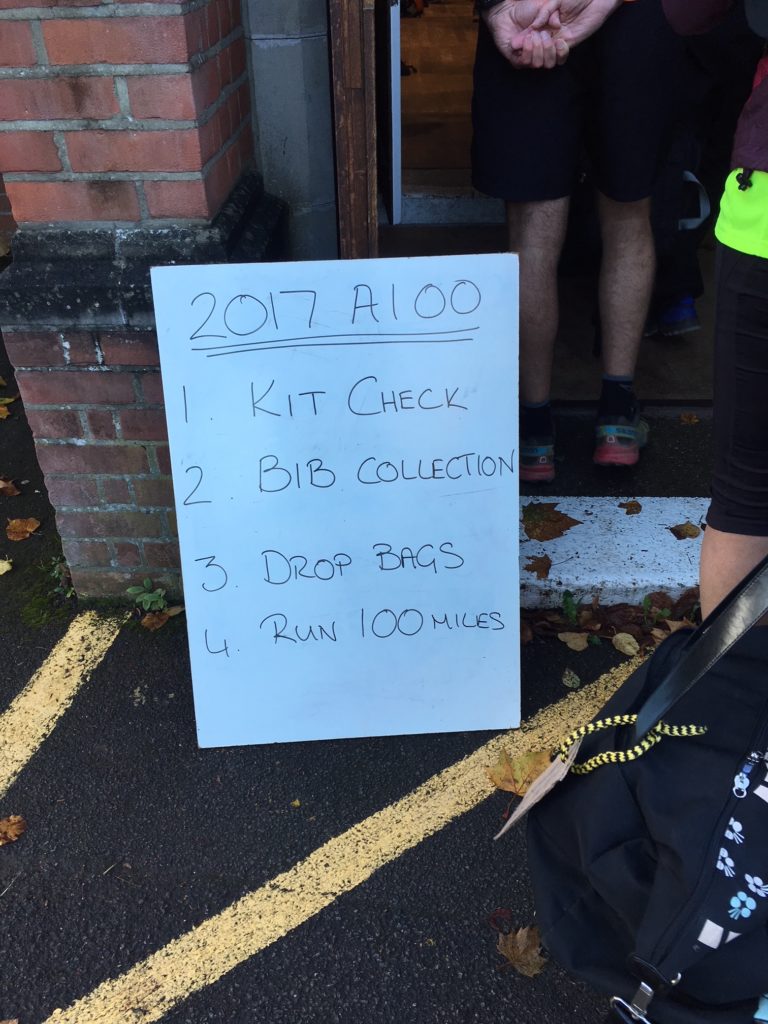 I went through the process of getting all my kit together, filling up my water bottles, doing a bit of general faffing and applying a years supply of Vaseline and Body Glide and I was ready. It was a short car journey up to the start at Goring with Loz and straight into the village hall to have my kit checked, pick up my race number, drop bags off and have the race briefing. This was a bit grim. H and I were both faffing, it's a small hall, there were a lot of runners. Experienced runners always wear kit they've run in before on race days. Ultra runners do a lot of running. It was quite warm and there were a lot of nerves. I've run out of ways to say this; the hall was hot, sweaty and smelt like a men's changing room, so we were both much happier once we were outside on the short walk to the start line. A quick picture and before you could say "ARGH WHAT ARE WE DOING?!", we were off.
The total distance is too far to comprehend at the beginning, so we broke it down into smaller chunks; each leg of 25 miles, the distance to each aid station of between 4 and 9.5 miles and each halfway point of about 12.5 miles. These were all smaller points of the larger journey and before the race you can't help plan for how you might feel; the easy first leg to warm into it, the difficult night sections on the ridgeway, the brutal last leg shuffle. We just had to get this first flat leg out of the way and then deal with the harder sections when they happened.
The first leg was an absolute horror show for both of us. The first 4 miles or so were pretty wet and slippery mud and even wearing trail shoes, we were both sliding all over the place, which is such hard work and is all extra energy wasted that you don't get back. The paths were narrow and we couldn't slow down that much to do our run/walk strategy properly and our legs felt heavy. More than that though, it just really got to us mentally; this was the easy bit, it was only going to get harder, if it feels like this now how will it feel later? All of this was going through my head and when we turned a corner and saw Loz and Pilla at about nine miles in, it must have been pretty clear to them that we weren't really enjoying it. We didn't stick around, we got to our first check point at 12 miles and headed back. When we saw Pilla again I had a massive headache and was really struggling with the sun in my eyes, as was H. Pilla gave me a hug and as we were about to set off, as Loz and H were chatting so they wouldn't see, she did that sort of silent 'are you ok?' sideways head look. I shook my head. I wasn't. This made me feel even worse because I knew she'd be worrying more but I just couldn't stop myself. Shortly after that, as we were both complaining about how awful it was and how dreadful we felt, I thought through what it could be? The cold? The wind? Not enough training? Something I'd eaten? The sunshine? Wait.
Breakfast.
What did I have to drink this morning?
Errr, nothing.
Ok, brilliant. Here you are Neil, running 25 miles having not drunk any water and wondering why you feel like death. Every time we stopped to walk now we went through a pretty familiar routine: "How do you feel H?" "Terrible, what about you?" "Flipping awful" "Ok, you need to drink". We agreed that we just needed to get back to Goring, have some food, change our clothes, a change of attitude and we'd be fine. We were going to do this even if it was awful and so we agreed that moaning about it didn't help. The last couple of miles into Goring were the warmest yet, which was good for drying out some of the worst mud but because I was drinking more it meant I'd run out of water in my bottles. I've been dehydrated often enough on long runs to know that when it gets really bad my forearms and hands start to cramp up and right on cue this happened at about mile out. We ran past our support crew at a coffee shop outside the village hall and all I could say to them was "I need to get some food and drink". A volunteer passed my drop bag to me and I couldn't work out where anything was or where we could sit until H pointed me to a whole other quiet room we had just walked past. I stared at my bag and couldn't quite figure out the next steps. "Neil, you need to go get some food" H was pretty much my saviour here as I was walking over to the food bench, I remembered they had Coke. "Coke or Pepsi" errrrrrrrrrrrrrrrrrrr-why-was-this-even-a-hard-errrrrr-choice-when-errrrrrr-any-will-do-just-answer-the-guy-ok-he's-just-pouring-something-errrrrrrr-Coke-yeah-please. And another. And one more please. I grabbed a load of cheese sandwiches and more Coke and water on my way back. I drank; I ate; I slowly got changed into my leg two kit and swapped my lightweight head torch we had to carry for the proper one I need at night; fixed some tape around the number where the wind had torn it and re-pinned it. I also overheard another runner just opposite us talking to a guy that looked as broken as we were and his words of encouragement stuck with me for a lot of the race "You'll finish it as long as you want to finish it". H was going through a similar slow motion chain of events and obviously people outside were worried about us as Pilla and Loz came in to ask if we were OK, chivvy us on a bit and give us some moral support. They weren't allowed to provide any assistance to us at all and so watching us must have been difficult knowing they couldn't actually do anything to help "Can you just put this in my bag Pilla?" "Nope, you need to" "Oh bugger". As we left the hall I picked up more cheese sandwiches, a load of sweets and a banana and we set off. We had planned on spending 10 – 15 minutes there. We eventually took at least 35.
What. A. Difference.
The choice to stay in the hall longer and properly sort ourselves out was probably the best decision we made on the event because leg two was beautiful. We both felt a million times better, the run was more scenic and even though our legs were still tired, at least we felt like they should be. We'd run 25 miles and it now felt like it was OK to be sore and that made me much happier in a weird way. Storm Brian had been threatening to hit all week and it was mentioned at the briefing that it would be worst between about 2pm and 8pm. For us this was great as it meant the windiest part of the storm would be when we were in the most sheltered parts of the route. We got to the first aid station at North Stoke which was a really good looking spread; these are not events where you have to worry about food. I ate a cheese sandwich (obvs), sausages, a scotch egg and Haribo. The volunteers were lovely and I had a ton more Coke. I grabbed some more food to eat as we set off, I definitely wasn't going to starve out on the course.
We saw Loz just after this and then headed up the ridgeway. The climb here is pretty gentle, although it does feel worse than it actually is after 30 miles of very flat ground. I loved it. We tripped over tree roots and chatted to runners and generally felt like two completely different people from the first leg. At the first turn around on leg one, it didn't feel like there were 150 people in front of us, so H made it a one woman mission to count every runner that went past us. This is the sort of thing that I start doing and then get confused/bored/forgetful, but H saying the number of all the runners became one of the regular patterns of our run. Later on when we were coming back we passed another runner doing the same thing (H was a lot more accurate with her counting though!). Loz appeared again just before crossing one of the main roads to dish out hugs and nice words and then we popped out onto the fields that form the backdrop to the main Autumn 100 page on the Centurian site. From here you can see for miles across to the power station close to Didcot which we'd be running past in a few miles. It looked flipping miles away but I really enjoyed this feeling rather than being intimidated by it.
You could definitely feel the wind on the more exposed sections of fields, but the rain that had been predicted all week continued to hold off. Dusk quickly came and went and we started to see the first runners with head torches on as we got to the half way point in the back of a van in Swyncombe. The aid stations were either in lovely little village halls or the back of vans in the middle of nowhere. Climbing into those vans definitely got more fun as the race wore on. This turn around point was manned by probably the most polite children I've ever spoken to, all dressed up in Halloween outfits they helped to fill my water bottles, get me sandwiches and after I heard H raving about it, squeezed through the van to get me a chocolate and peanut butter cookie. I should say here that literally every volunteer there at the event helped to make this an overwhelmingly positive experience. Friendly, chatty, a nice level of encouraging, they couldn't do enough to help you and get you back out on your way. This became more difficult for them at the later aid stations but they all deserve a medal. I think my favourite was overhearing one of the ladies in Whitchurch with about 4 miles to go who was persuading a runner to go out with a cup of tea, breezily saying how she had a runner in earlier who was hallucinating and it just took a cup of tea and a sit down and 10 minutes later he was out of the door. If you ever need help in a race the kind ladies of Whitchurch are the people to see!
This stop followed the now familiar routine of me taking way more time than H to eat, sort myself and get moving again. Headtorch and gloves on, coat zipped up it was time to run in the dark. As we were running along happily chatting we heard a bit of a noise behind us, thought nothing of it and carried on. About 5 minutes later as we passed a massive mansion and slogged up a hill, H suddenly realised we hadn't come this way before and that the noise we had heard was obviously someone trying to warn us we'd gone wrong! The route is exceptionally well marked but when you are tired, distracted and zoning out a bit it's easy to miss a turn off. We pegged it back down the road and agreed to pay better attention from now on!
The route back down to Goring was much trickier in the dark. The route takes you through a 3.5 mile section called Grims Dyke which is an ancient earth work with steep sides, lined with trees. It's great for protecting you from the wind but the tree roots provide a constant challenge with tired legs. The more tired you get, the lower you seem to lift your feet and the harder it is to pay attention. You are sort of caught in a battle between wanting to get into a running zone but also needing to concentrate. We both had a few near misses and trips but we had our first proper scare of the run when I heard a yelp and turned to see H flat out on the floor having gone flying. She picked herself up really quickly and set off like the running machine that I know. A bit like the wrong turning, this probably didn't work out too badly to happen so early on and again I think we were pretty lucky to get away with nothing too serious, but we definitely took it a bit easier after this. We saw Loz and H's family just before the stop at North Stoke where a quick loo stop confirmed the earlier hydration crisis was over. The flat 4 miles or so back to Goring took forever this time as we were both looking forward to a stop and getting some more company and I think the anticipation of that made the last section drag on. Finally, we ran down the last road and popped out at Goring village hall with Liz, Pilla and Loz all waiting there for us.
The volunteers grabbed our bags before we had even got into the main hall and ushered us over to some free seats and we got going with the familiar eating, drinking, changing routine. This time was a much happier experience. We'd both been really looked forward to Liz joining us on the run. Imagine being the kind of person that would volunteer to pace for mile 50 to 75 of an ultra. You have about a three hour window when it might start; it's dark; it's barely walking pace; you have to gently encourage, but not too much, a couple of very tired runners; the route is on an exposed path with Storm Brian happening and it's the middle of the night. Liz is exactly that sort of person! She brought a load of fresh enthusiasm to us. After a bit less faff than after leg two we headed out through Goring and Streatley and turned off up what felt like the longest, biggest hill of the day. In reality this was a fairly gentle climb over probably not more than a mile and a half, but with increasingly tired legs it was a bit of an effort. As we got higher the wind really kicked in and it was directly in our faces for most of the outward leg. We were still walk/running at this point but the walks were getting longer and the runs slower. Liz is the sort of person that can chat about anything and we covered a lot of things from Strictly, to playing the airport A-Z game, to how impressive it was they had real Coke. There was a bit of chat about how awful my choice of route was as I seemed to have an amazing ability to pick out the worst path with almost all the puddles!
As long as we were moving, the wind and cold wasn't too bad; as soon as we stopped it really got to us. We hit the aid station at about 8 miles and these folk are some of the heroes of the race. The wind was battering the van but everyone there was super helpful as they filled our drinks and we grabbed yet more sandwiches and pushed on. I realised during that stop I had become freezing cold, so I had to get running to warm up with and within a few minutes I was in a pretty good place. Having expected horrific weather, the poor weather we were getting felt like a massive win in comparison and the wind had kept all the cloud off which meant that the view of the stars was lovely. It wasn't quite as nice as seeing the fairy lights at the turnaround van which we spotted at the top of a fairly gentle incline that felt like a mountain. I think H and I were both starting to feel bad at this point. The combined effect of 62.5 miles, the dark and especially the wind in our faces made that section probably the most draining of the event. As we sat in the back of a van Liz was fetching us tea, sandwiches, sweets and anything else we wanted and defying all laws of food, I was just eating anything, in any order, at any time. Getting to this point was a huge achievement, this always felt like it could be the worst part of the course and the route back was mostly downhill and with the wind at our backs so it should be a doddle, right?
Not quite. As we set off I knew I needed to keep running to stay warm but I think H was struggling. This kind of worked out ok as my running wasn't much faster than H's walking and my walking was much slower than H's so we all stayed roughly together. We were trying to keep the pace up, but the tricky ground made it hard to run at any pace. The 8 miles or so of really exposed path eventually ended but the long downhill we had all been looking forward to was neither as long or downhill as we thought. I got a bit emotional talking to Liz about what I was putting Pilla through when she wasn't well and how much I was looking forward to seeing her in the morning. The whole thing was making me a bit grumpy and H was clearly going through the same. From out of nowhere H said "Neil, I've got a big problem" and then just burst into tears. I knew exactly how she felt. A few kind words from Liz though and it passed quickly. At the start of the race we were talking to a guy that had stopped at 75 miles last year and we agreed after hearing this that if we got to 75 miles there was absolutely no way we wouldn't set out on the last leg. That is the sort of thing that is really easy to say at the start but we absolutely meant it. I wasn't exactly loving this part of the race and said that we had to get out on leg four because there was no way I was doing this again. Both suffering and moaning quite loudly about it to Liz, she said "But you must be so proud of yourselves", "No, I'm questioning all my life choices, like why can't I just like cheese instead and be spending my weekends in cheese shops instead of this nonsense". The stony paths on this leg had started to make my left foot a bit sore, which was starting to annoy me and the last few miles to Goring just seemed to take forever. I was pretty much in tears choking up to Liz about just how hard it now was. She was an absolute star dealing with our chaotic emotions from start to finish and we absolutely couldn't have completed that leg without her. We turned into the main road feeling battered and jogged up to the village hall.
Obviously Loz was waiting, supporting, hugging, saying nice things and making us feel like heroes. H's other half James also appeared just as H really needed it which I think gave her a massive lift.
We faffed around for longer than we should have done at the end of leg three but there was never any thought of us not getting out again once we had got back into the hall. Brian, who at got up at 1:15am and hung around for HOURS waiting for us, was calm and patient and had already worked out the run maths. "If we set of in 20 minutes, we'll have 8 and a half hours to do 25 miles. How do you feel about 20 minute miles?". I honestly felt great about 20 minute miles, we'd still been doing 14 and 15 on leg three so this felt like it would be easy. But… we set off about 5 minutes later than we planned and then I remembered Sarah saying that this leg was longer than the others. How much longer? What if it's hilly? What if I physically fall apart in the last few miles like at Thunder Run? Very quickly I'd worked myself up into a "Oh this is going to be close, maybe I can't get round in time" panic. We were ok for the first mile or two just walking, then we hit a slightly hilly section. At this point I convinced myself that I needed to go faster to get round and that I couldn't just walk it in time even though Brian kept calmly explaining we could. I just kept thinking "I can't get this far and not finish, I can't get this far and not finish, I need to finish". I desperately wanted to do it, but I knew I needed to make some extra time whilst I still could. I told Brian that I was ok and I moved ahead.
And then I felt dreadful. For the next few miles I walked, ran and trudged on. I saw H and Brian at the aid station and we were together again for a small part from Whitchurch but the same voice came back "You need to get some time, you need to get ahead, you can't get this far and not finish". I moved a bit faster, again leaving H behind. I felt like I had abandoned her again but kept moving. "You need to get ahead, the last miles will be hard, you need to do this". Now I had a second voice that said "You left H at the hardest bit, you selfish d!ck" and these thoughts, and pretty much nothing else, came into my mind for the next 6 miles until I saw Pilla and Loz outside the hotel in Reading. I know that it had got light between these two times, but I have hardly any memory of that, I just kept running, walking and staring at my watch convinced it was going to be really close. Feeling broken, like a horrible friend, and like all the wheels were about to fall off, I was a bit of a mess.
Pilla hugged me. "It's so hard, is H OK? I had to go, I needed to go, I need to" I blubbed. "She's fine, Brian's told us she's picked up some pace, she's going to do it, just keep going". Pilla grabbed my hand and we walked for half a mile or so before hugging again as we agreed to meet in the same place on the way back. I wasn't quite sure how far it was to the turnaround point and every runner I asked seemed to say a different distance and it ended up being about half a mile further than I thought, up a couple of sets of steps. I don't remember eating much or getting any drink and I hadn't been there more than a couple of minutes when Brian arrived with H. I was so relieved to see her, but again I had in my head that I couldn't hang around and set off.
About a minute later I bumped into Pilla coming from the other direction and we walked along and chatted for a mile or so until we saw the rest of the supporting crew, this time including Rae and Paul too. I was still in my "need to move, need to move" zone so didn't stop at all, I ust kept going as I was still massively concerned about making the cut off time. I was pretty much unable to run as I'd now got an absolute beauty of a blister on the ball of my foot from all the stony paths. The route back from Reading to Whitchurch was not fun; flat, hard, stony, a massive set of stairs over a railway and a weird bit through a housing estate, followed by a set of fields with the wind in your face, it was just a drag really. Shortly after the housing estate with about 12km to go, I was really struggling. I turned around to see Brian and H and thank God they were there because when they caught up, they gave me a massive lift. H was now charging along and I dropped in behind her and just counted my steps as I was walking to take my mind off things. Following H here saved my race, she just has this ability to power on through that is incredible, without any of the whining that I had started.
"Brian, how far to go?", "11km Neil, you've easily got this", "And what's our ETA?"……"13:26″…."Ok, ok". And then 2 minutes later……"Brian, how far to go?"…… "10.8km Neil". This whining from me continued at anywhere between 100 and 500 metre gaps for the rest of the route. Brian, without fail, patiently replied that we were going to make it if we kept at a good pace, that we had time to spare and that we'd be fine. I'm not sure either H or I really believed it. We got to Whitchurch with 1hr 40 in hand and with 4 miles to go. At my regular running pace I'd be able to have a picnic for an hour by the river and still make it back in time, but this morning it still didn't sound enough. I slowed even more after this stop, the small hills (never trust Brian Drought when he says something is mostly flat or downhill) took an age and quite a few people went past me in the last two miles. As we hit the flat ground again next to the Thames, Brian called out that it was a mile and a half. We'd be done in 25 minutes. "H says can you believe there's only a mile to go after what happened on leg one?". No I can't. I really, really can't.
H was moving off into the distance as I saw the bridge we'd turn at. Once there it was just a 200 metre walk up to the finish line and we'd have done it and we could stop moving. Liz walked up to meet me just before the bridge and by this time I was hardly moving at all. It was lovely to walk those last few metres down the river in the bright sunshine with her after the run during the night. As I turned the last corner I saw H had waited up ahead and we walked up together chatting, like at the start, up to the finish and with all our supporting crew present we felt like heroes.
100 miles. 27 hours and 35 minutes. 25 minutes before the cut off.
I know it's long and I'm in danger of it sounding like an Oscar acceptance speech now, but I have some amazing and difficult memories from this weekend and I'm sat here a few days later trying to comprehend how on earth we managed to run a hundred miles in one go. It seems impossible. The only reason we did it are because of our friends and family and especially those that came along at all hours during the event and put up with us for months before. Rae and Paul for giving up most of a Sunday to see us in a shocking state when we needed it the most. Loz for being the best supporter at Goring, for appearing out of nowhere on course, being the best hugger and room tidier. Liz for being the happiest and chattiest person to run for 7 hours in the middle of the night with, up a hill, in a gale, that the world has ever seen. You could totally boss this race Liz! Brian for being the calmest runner with best run maths when faced with the whiniest pair of very tired runners for what felt like a life time. You could totally boss this race Brian! And Pilla, for being amazing at everything, hugs, texting, making me go running when I don't want to, driving us back home when I was passed out, feeding me, not rolling her eyes when I say "Pilla, I've been thinking about doing…." and for the best on course support anyone has ever had. I love you x.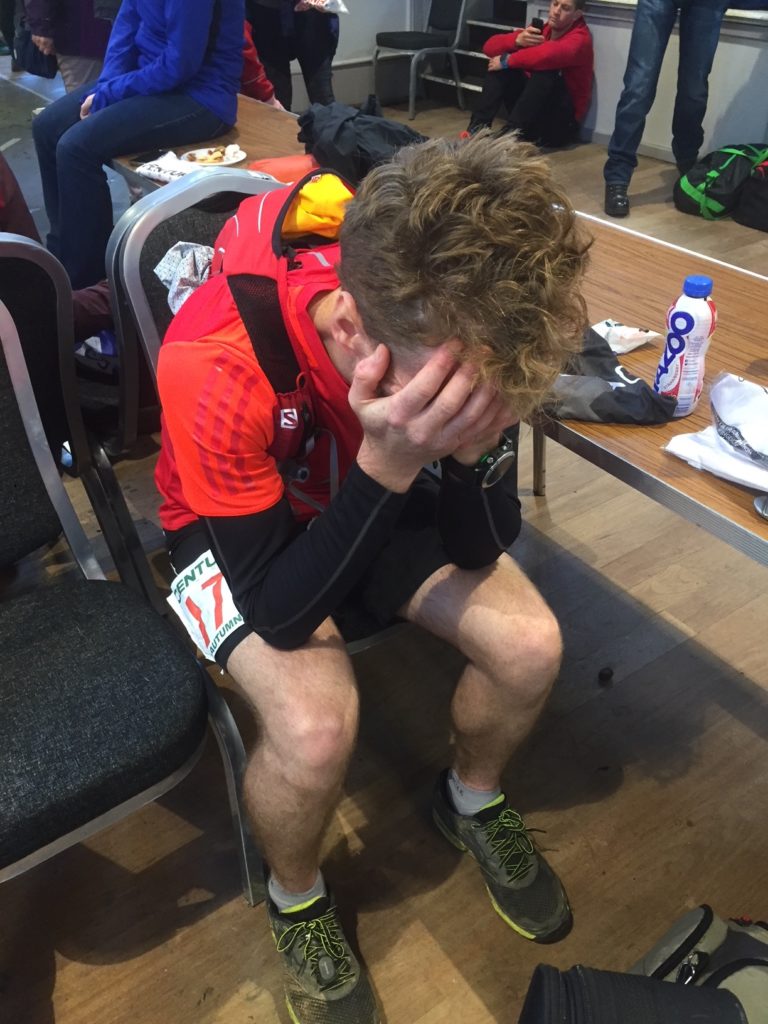 And finally to H. I couldn't have done the training without you and I couldn't have completed it this weekend without you. You dragged me round with sheer determination when I couldn't do it any more. You are an inspiration. It was bloody hard and we did it!
We made a plan to finish this together in December, without really knowing just how challenging and difficult it might be, what it really involved or what we could do and we only went and did it! Sometimes you don't get the race you want or the one you trained for, the race you have spirals off course and sends you in a different direction, but in the process it teaches you a lot about who you are and what you are capable of. You are capable of anything. Whatever it is, as long as you want to finish it, you'll finish it. Thank you x