This is a long post about the Manchester marathon last weekend. I'm sorry.
Back in 2009 when I signed up to the Paris Marathon running was pretty straightforward. That was time time when every distance was a first, and so it was PB after PB after PB. No having anything to aim for you just don't know what you are capable of. When Paris came around I was a rank amateur, I ran twice during the week for about 2.5 miles, then did a long run at the weekend. I made up the distances. I didn't think about race plans, pace plans, nutrition, spreadsheets analysing performance, I just ran. I ran because it made me lose weight and it meant I could play football for longer. I ran because I wanted to get medals and take part in events. I ran because it was fun and I wanted to. When I signed up to Paris I had one very stubborn goal, a sub 4 marathon. That was it. I had no idea what pace that was or if I could do it. I picked a figure and stuck to it.
It was six years ago but parts of that Paris marathon are seared with full HD technicolour into my brain – things like not taking any breakfast so my prerace meal was a stale croissant and half a danish whirl. The massive number of people wearing what looked like cycling shorts to run in. I remember the parks, the bands, seeing my supporters. I remember the wine, the guy next to me at 21 miles that said, "damn we could walk this in and get under 4 hours". I remember getting near the end and hurting so much I had to walk, but then hurting so much I had to run but counting each step to take my mind off the pain. When I saw the finish line I just remember thinking 'I CAN'T BELIEVE I'VE JUST RUN A F******* MARATHON'. The start line. Oh my god, the start line at Paris. And the medal. It's absolutely beautiful. It was the perfect race, everything just worked. I got 3:57.16. I left that race thinking all marathons must be like that, a beautiful, brutal, but ultimately uplifting affair…
…
Only they are not are they. The next three marathons taught me that are awful, dreadful, dream crushing affairs. Edinburgh was a bust due to some unseasonably hot weather and London 2012 was probably the single most painful experience of my life. After training hard and waiting a lifetime to do this event dreaming how incredible it would be it turned out to be a total and utter nightmare. Walking that last 10 miles, with the worst cramp I've ever had before or since I promised myself I'd never, EVER do one again. I've never really looked at that medal. It's in the house somewhere but I'm not proud of it. If 2012 was bad, London 2014 comes a close second, it really should have been the one. I barely missed a beat in training, session after session, mile after mile. I was going for frankly a stupid time, but I didn't have any doubts at all I would do it. The plan said so. I could not have been more ready. But when at mile 18 when the wheels fell off and I wanted to crawl into a hole and die I wasn't that surprised because this is what marathons are about. Setting targets and failing. Wanting them to end. Disappointment. Not wanting to tell anyone how you did. This was my marathon experience. Somewhere along the way I'd lost Paris. Milton Keynes helped, due to the people there mostly, but ultimately I still left there somehow disappointed in my time.
The Manchester marathon rolled around last Sunday. I'm not making excuse but my training has been hard this time:
My knee was buggered when I started training
I got a stressy new job in December
I've had weeks away working in both very hot and very cold places
I've moved house.
All in the last 16 weeks. I've missed so much training and my runs have been all over the place from slow to quick to merrr, to slow. I only half jokingly on Twitter said that I was happy to predict a time from 3:30 to 5hrs it was that open. I was not expecting much – my only vague target was to try and enjoy it.
Last weekend was properly amazing.
Firstly all the ace people came round and stayed with us. Loz, H and Rae. Literally, The. Best. People. How to relax and feel good before a race? Well just invite some good friends over and eat good food and all get nervous together. Invite more ace Twitter people round. Chat about good things and bad things and equinox things and good races and bad races and plans and schemes and life. This is probably all you need. In fact for any future marathons I may or may not do, I'm going to demand they come round. H was shooting for a sub 4, and it was Rae's first marathon. So. Much. Fun.
After a breakfast of a hot cross bun and a cup of tea we set off to the start, which was dead easy as the start is just down the road from my work, hello free parking. The weather at the start line was just about perfect for me, cool, slight breeze. It was strange though standing there because it's been AGES since I've pinned a number on, I think the last time was Equinox in September and to be honest I had no idea what to expect. As much as I loved it, I won't lie the start of the course isn't very exciting. It's pretty much two out and backs through an industrial estate which I thought I'd hate, but I actually even loved these bits because you get a real sense of the size of the race – it's kind of fun ticking off the pacers in front and behind you and you get to look for everyone else in the race.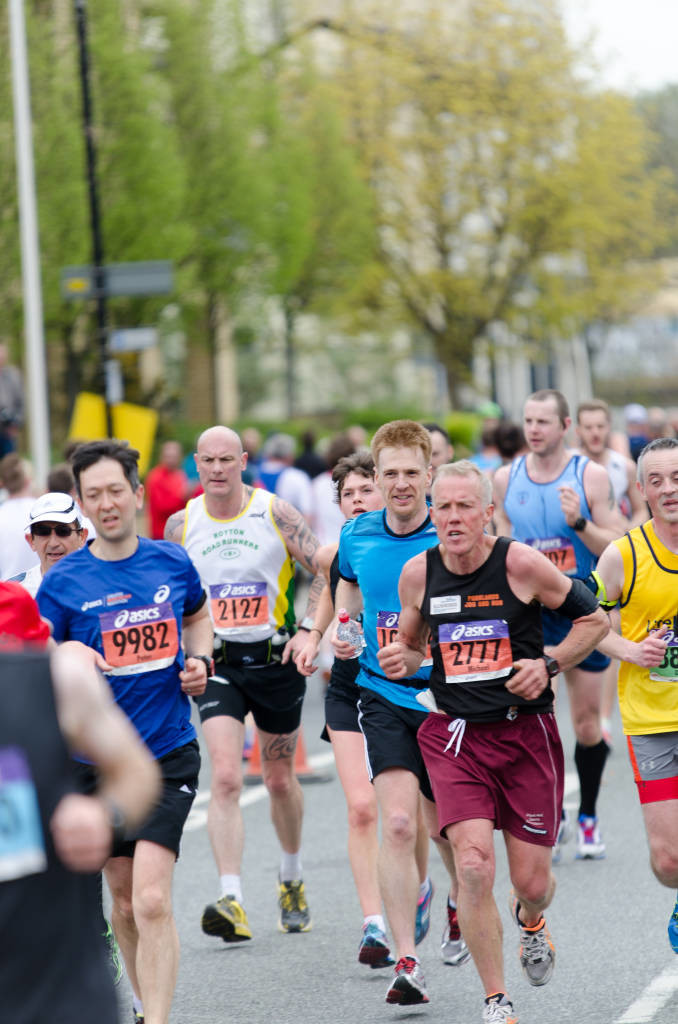 After about 4 miles you head out towards Sale and at this point I figure I'm running ok. In fact I was amazed how fast the race was going. I kept looking at the time on my watch thinking 'Wow, an hour's gone'. The support across Manchester for this race is lovely. It's not London, it's not crowds 10 deep but it's almost better for that. The support in the village centres is great, there's lot of haribo and jelly babies and you actually thank people cheering you on. The organisers have a pitch about it being the UKs friendliest marathon, I think it actually might be. I got to Brooklands at about 9 expecting Loz and Pilla so the run down Brooklands road was very fun. This is another out and back bit so you get to see the race leaders, and I was happily chatting to a lady about how unfair it was that they didn't even look like they were trying. Pilla gave me a fun on mid race de-brief about where the water points and jelly babies were.
Tick tick tick. I was enjoying it so much through Timperley and Altrincham I barely even noticed the miles, the time, the pace or anything. Altrincham was fab – loads up music, people, support. Although because it's such a flat marathon the bridge going into it and the slope up the high street you really notice even though it's probably about 10 meters in total! Also, these guys were out and this was the second closest point I got to crying. They were singing Edge of Glory by Lady Gaga when I went past:
After Altrincham you loop back to Brooklands and get to see the runners slightly behind you on the course. Obviously you spend the whole time looking for your friends to see how they are doing and hope they are enjoying at much as you. I saw H ages before the 4hr pacer looking like a machine and then just after saw Rae. This forms part of my new HD-seared-in-technicolour-marathon-memory because at mile 15, feeling great seeing someone who you helped put a training plan together for their first marathon who was obviously loving the day, looking strong and so far in front of their pacer and target time that you thought you'd better not slow down because they might catch you was fantastic. Fan-bloody-tastic. Also, a big shout out here to the lady with the big 'Motivational Sign' motivational sign – I love a comedy sign me.
The run through Carrington at 19-21 is not great, it's all open fields and little support but in my head I thought if I could get through this, then I was home dry. And then. Mile 19 was fine, mile 20 was fine, mile 21 was fine, mile 22 was, umm, tough. I saw my friend Viv who ran alongside for a little but oh my life my legs had started to give up at that point. Mile 23 was a nightmare and then I had to walk in mile 24. Only for a little bit. Only after seeing some more friends supporting me. But I walked. And at this point I saw the 3:30 pacer go past and got flipping p*ssed I'd given up when I was so close. So I started running. At this point a welsh guy just in front of me got given some jelly babies by a little girl and her dad supporting and his exact words back to here were so grateful and heart felt that I don't think I'll ever forget the moment. He'll never know I think this and he'll never know it had such an effect on my but I pretty much burst into tears.
Annnnyway.
So I started running again and it hurt, but I carried on this time. Turning back into Chester Road with a mile and a half to go was immense, just absolutely chock full of people including one guy dressed as the grim reaper running up and down the road shouting  'THE END IS NIGH, THE END IS NIGH!!!'. LOVED ITTT!!! It was really just now about finishing it I knew I'd be getting a PB but it was still a massive surprise by the time: 3:32:14. What a race.
I hung about at the finish trying to put my socks on for half an hour as my legs were so ruined I couldn't bend them, before walking back to mile 25 to meet Pilla and cheer on the rest of the runners. H had already claimed her sub 4, and we saw Rae storming down the road at about mile 25.5. Looking like she'd just started a park run. Amazing. She got a brilliant time of 4:40. We celebrated with burgers and beers and they might have been the best tasting things I've ever eaten.
Manchester, you're ace.
Running, you're ace.
Pilla, you're ace.
Twitter friends (real friends), you're ace. We had the best weekend.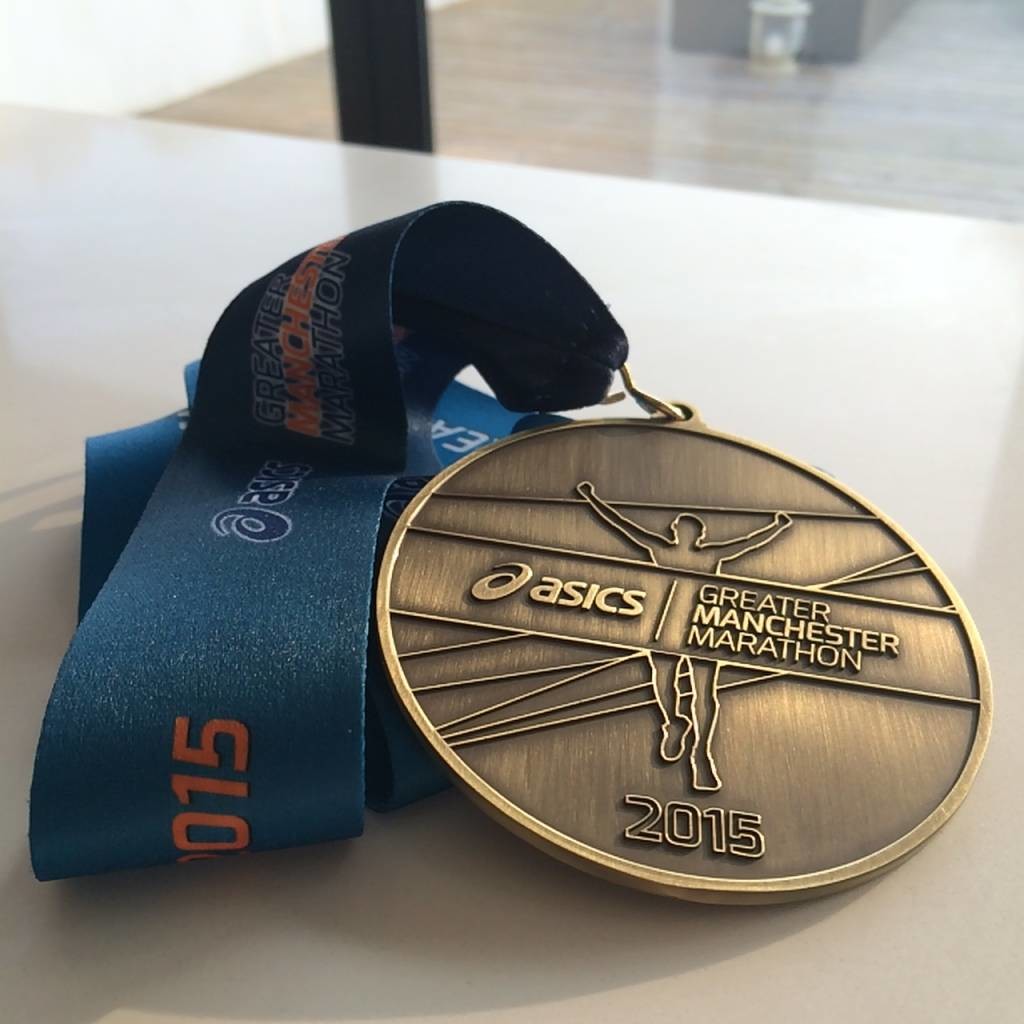 So marathons are a beautiful, uplifting, life affirming, friend affirming, brutal, utterly lovely thing. Thank you Manchester.