And that is the difficult festive season done! Definitely feel like I'm in the training groove right now. My weekly miles went up to nearly 30 which is the furthest in a very long time and I ran on 6 consecutive days which I don't think I have ever done before. So far, still, touch wood and all that, it's going pretty well.
I'm still in that base training phase, which is fine, I know it's important to build your fitness steadily and get your body used to lots of running, long miles and the bigger effort ahead but I am totally itching to run faster again. I think I might *might* try a little this week to mix it up a little (cue a post next week moaning about being knackered and injured!)
I'm still thinking about what time to go for. In a couple of weeks I start building in some marathon pacing sessions mid-week which do exactly as they sound, you use them to practice your marathon pace. This is obviously important and something I've not focused on very much in the past. It's also supposed to be pretty tough and I'm strangely REALLY looking forward to it (see the bit above about want to go fast!). My heart says go for 3:15, it's the london marathon, I might never do it again and that would be an awesome time for me. My head says I've never been faster than 3:57 so go for sub 3:30 (still a good time, and my goal for the year). Ah bugger it, let's just pick 3:15 and see what happens, hey.
[table]Week,Distance(miles),Time,Average Pace
1,4.25,0:39:21,0:09:16
2,6.97,1:05:16,0:09:16
3,13.82,2:00:29,0:08:42
4,19.29,3:35:24,0:10:19
5,23.33,3:16:14,0:08:29
6,29.48,4:12:39,0:08:39[/table]
The table above I'm currently slightly obsessed with. Ever since I linked the training spreadsheet to my garmin connect account I've gone a bit figure mad. My running should get fairly close to 5hrs this week and 34 miles or so I guess.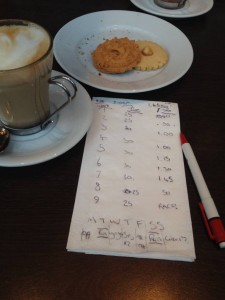 For all my love of a spreadsheet training plan, this week Pilla and I wrote up her plan on a napkin over a coffee and biscuits. She is doing the Silverstone half with me in 8 weeks time and is aiming for round about 2hrs. She's had a bit of a foot niggle recently but that seems to have cleared up with lots of stretching and rolling (of both the tennis ball and foam varieties) and we managed to get out three times together this week, using two of my cycle/run sessions and we started out the long run together on Saturday. I think this was helpful to both of us, as I wasn't really feeling it and it was her longest run for ages.
Pilla also made me go to swim class tonight.I was pretty done in from going to a wedding last night and having a couple of interupted sleeps (which really do have an effect on how much fun it is to go running in the morning, lots of sleep = good run) and wanted to give it a miss. It turned out to be pretty good mental toughness work because I wanted to give up pretty much the whole length of time I was there but I was too flipping stubborn to do that and by the time I got into the last 10 minutes I was on a pretty big high of beating the lazy Neil monster in my head.
The graph is really not very exciting at all other than to show the distances are gradually building and my average pace is falling a little. Good oh. Anyway I'm loving training at the moment. Bring. It. On!
Oh before I forget, I added this thing on the blog that let's you sign up for email updates if I add a post. I honestly don't know why anyone in their right mind would do this, but If you want to you can sign up here:
[subscribe2]