Phew, what a week. Last week I talked about how tired I was and I was pretty worried about where my training would go this week. Turns out, I had a pretty fun week.
My mid week sessions all went to plan really, but due to some other commitments I couldn't make all my swim sessions. I still hit all the other sessions and didn't find them as hard as the previous week, my turbo session especially went very quickly, which is a huge positive. I knew the coming three weeks would be challenging, not least because my training ramps up but because of general other stuff. Now that one of them is out of the way I feel much more positive!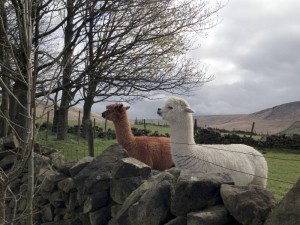 My ace inspirational running friend Viv had recommended a race to me last year, the Saddleworth Cake Race. This is a brilliant idea – it's a fell run but if you bring a cake you race for free. There are prizes not just for winning the race but also for the cakes too. Best of all, once you are done you get to eat as much cake as you like. I don't know why all runs are not like this. The run itself was pretty fun, through some varied terrain across a couple of what felt like pretty big hills. I don't have good fitting trail running shoes so finished with some pretty big blisters. I can now call myself a fell runner, which is getting added to my 'fun stuff I've done for the first time in 2013′. Next item on that list – 'Do an Ironman'.
On Sunday Viv and Jerry took me out cycling, it was actually the first time in all of my training that I've cycled with anyone else. It's way more fun! Although their idea of an easy Sunday ride must be somewhat different to mine… it was probably the hardest ride I've done so far. It came in at about 60 miles but took in about 6000ft of climbing. The descents made it more than worthwhile though, having someone to follow gave me a huge lift, my thought process must have been something along the lines of 'well if they haven't fallen off, I'm not going to'. The route was all through the forest of bowland which is really very very beautiful, it seems especially built for cycling too. I learnt some lessons too:
I need to carry more than one inner tube
I need to carry more than one CO2 can
I get very hungry, need more food
[sgpx gpx="/wp-content/uploads/gpx/activity_308389172.gpx"]
The distance is wrong in that summary, caused my taking the car to the start, it was around about 65 miles I guess.
I had my first puncture, caused by hitting a pot hole very hard at the bottom of a descent. It was very much an instant thing, the noise it made was pretty incredible.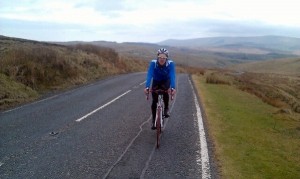 I was supposed to be organising an afternoon on the real ale trail with some friends but arrived late for that as the route we took was a little longer than planned, very much leaving a friend to sort it all out. I got quite a lot of grief on the trip for that bit of planning! So it's been a very tiring but very fun week. Next week is going to be interesting too as my next long run and ride will take place in Minnesota, wish me luck!
The run down of what I did this week is:
[table]Day ,Type ,Time ,Details
Monday ,Rest ,,
Tuesday ,Swim ,0:45:00 ,#15
Tuesday ,Running ,1:15:00 ,Z2 (at 0:10, insert 3 x 6 min Z4 @ 2 min Jog)
Wednesday ,Cycling ,0:45:00 ,Z2 (QC)
Wednesday ,Running ,0:30:00 ,Z2
Thursday ,Running ,1:15:00 ,Z2 (at 1:00 insert 10 min Z4)
Friday ,Cycling ,1:30:00 ,Z2 (at 0:15, insert 4 x 7 min Z4 @ 4 min spin)
Saturday ,Running ,1:35:00 ,Z1 to Z2
Sunday ,Cycling ,5:00:00 ,Z2 (QC)[/table]